So, Jordan, Julie Huigens and I had a cheese, cracker and fruit dinner. It was quite good, and she was inspiring when it came time to really make things nice. We cleared the table, and set out the white table cloth, the deep red napkins, and I pulled out some crystal glasses that I bought to go with our wedding china. The sun was setting, so it was glittering in the cut crystal. Clear, cut crystal is one of my favorite things, especially with sun sparking through.
 Julie and I had gone shopping at Trader Joe's earlier in the day, and we picked up 5 different cheeses to try. (One really nice thing about Trader Joe's is they have a really nice cheese section, and generally it is cut into smaller pieces, so you can get a small amount of a cheese to try, not having to worry about a huge piece to finish off.)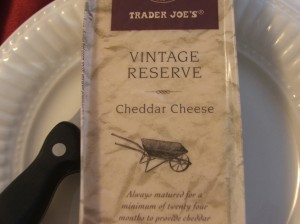 We picked up a Wisconsin white hard cheddar (aged 24 mo),
a Blueberry and Vanilla Chevre (goat cheese, reminded me of a cream cheese),
a savory Mozzarella (braided of course :D),
Monterey Pepperjack cheese (it was the favorite of the evening), and Julie's all time favorite: Brie. We toasted the brie, and while Julie was worried that it might stink to us, Jordan was perking up because it was smelling like butter. Silly. :p You could add butter to a piece of paper, and he'd probably enjoy it. 😛
We got the Trader Joe's cracker variety, but as Julie has the box, I really couldn't tell you what all the crackers were, except MY favorite (with the cheddar cheese) was the jalapeno crackers.
We went to Food City (our beloved Mexican grocery…if anyone out East comes to visit, you can almost be assured a trip to Food City, where half of the advertisements are in Spanish, except after 8pm and on weekends where they are 90% in Spanish.) We picked up some grapes, oranges, cucumbers, watermelon, green beans, pears, strawberries, and probably a few other things, but I can't remember as Julie bought most of it, and she was taking most of it home. 😀 We were really giving the guy at the checkout a test on his memory, as he had to look a few of the produce items up. Julie teased me that I pushed the line when I joked about the guy now having to work on his math with me. (I bought $.12 worth of oranges…which was 3 oranges.)
So, when we were putting it all together, I suddenly got inspired with the orange, and cut it in half zig-zagged, and then got further inspired by the pears because the way that I had cut them they looked like wings, so I ended up making a fruit bird with the orange and pear, and it actually turned out pretty decent! I was suprised. I was able to get a few pictures of the table (and fruit) before it was all devoured. The only thing I didn't get a picture of was the brie, as it was in the toaster oven melting when I was taking pictures. 🙂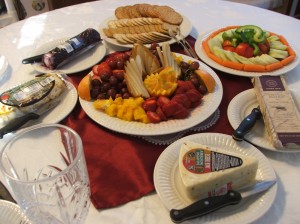 We thoroughly enjoyed ourselves, talking about the positive things in life, as we feasted on crackers, cheese and fruit (inspired by a recent meal that Julie had while she was in Michigan on a business trip.) Thank you Julie! We enjoyed ourselves! 🙂 Next time…I think we're going to try fondue! (once again, Julie inspired. :p)
Enjoy!
Martha