So I know I've confessed to not knowing what to make for breakfast.
And I'm still working on it.
But the other day I made crepes for Jordan for breakfast, and I even surprise myself by enjoying it.
Crepes with strawberries and freshly whipped cream. The recipe is a Julia Child's recipe.
After you put the ingredients together and blend them, you getting pan and heat it really hot, almost to smoking.
You brush the pan with oil…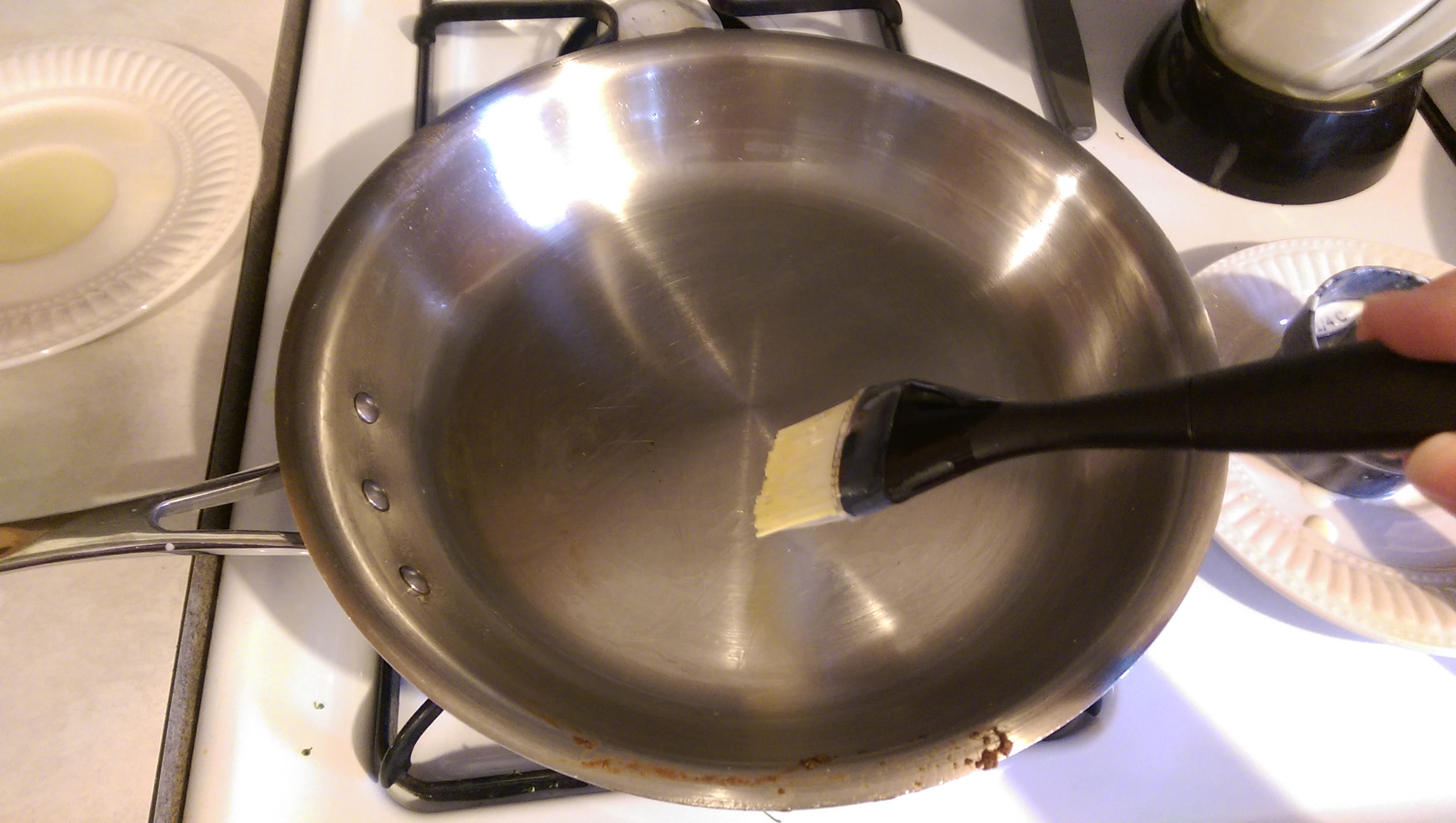 …(a silicone brush is best otherwise the bristles on the others will melt, also keeping a small puddle of oil on a plate is the best way I've done it so far)…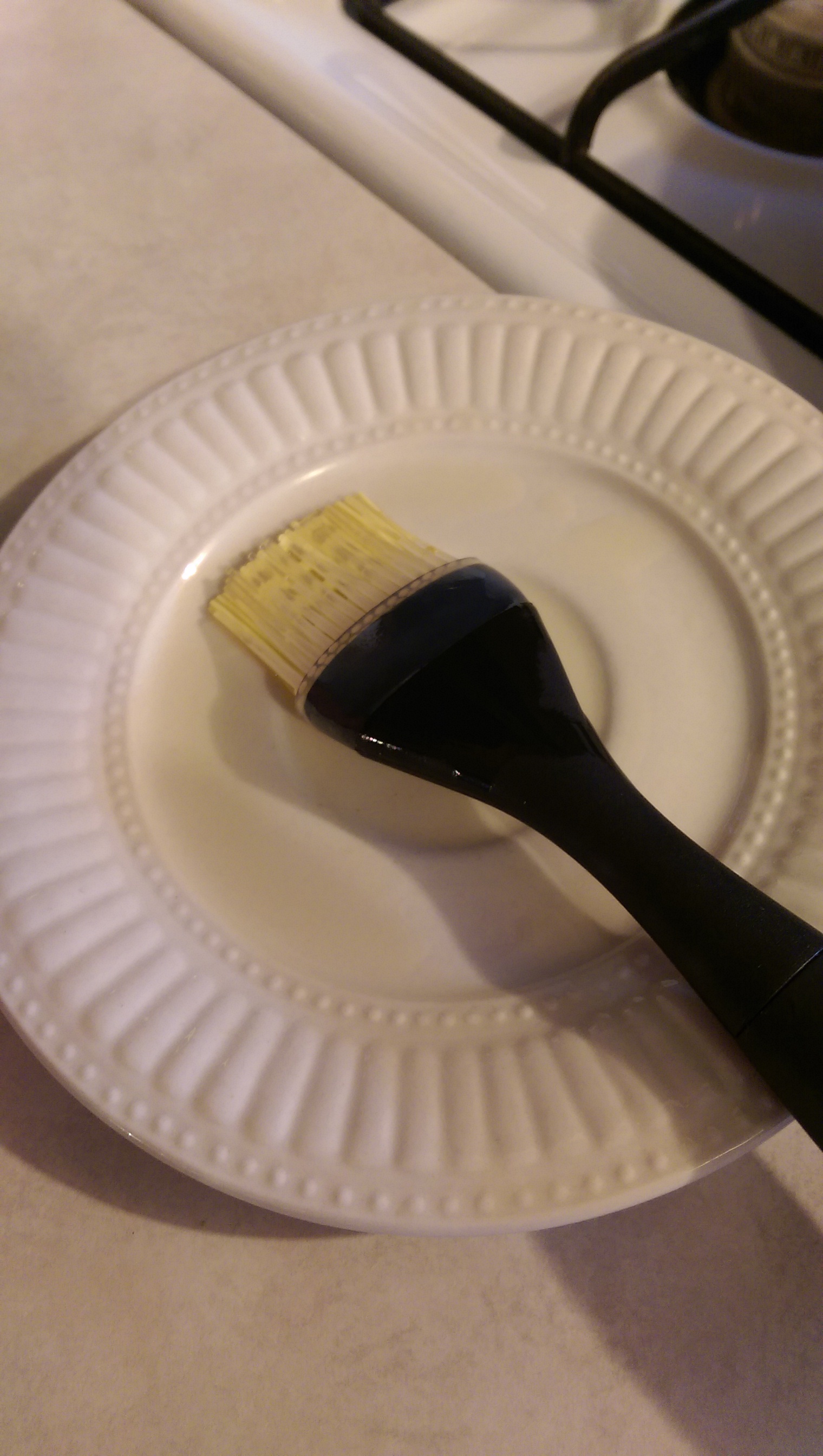 …then put the batter in the pan…
…roll the pan to coat it with batter…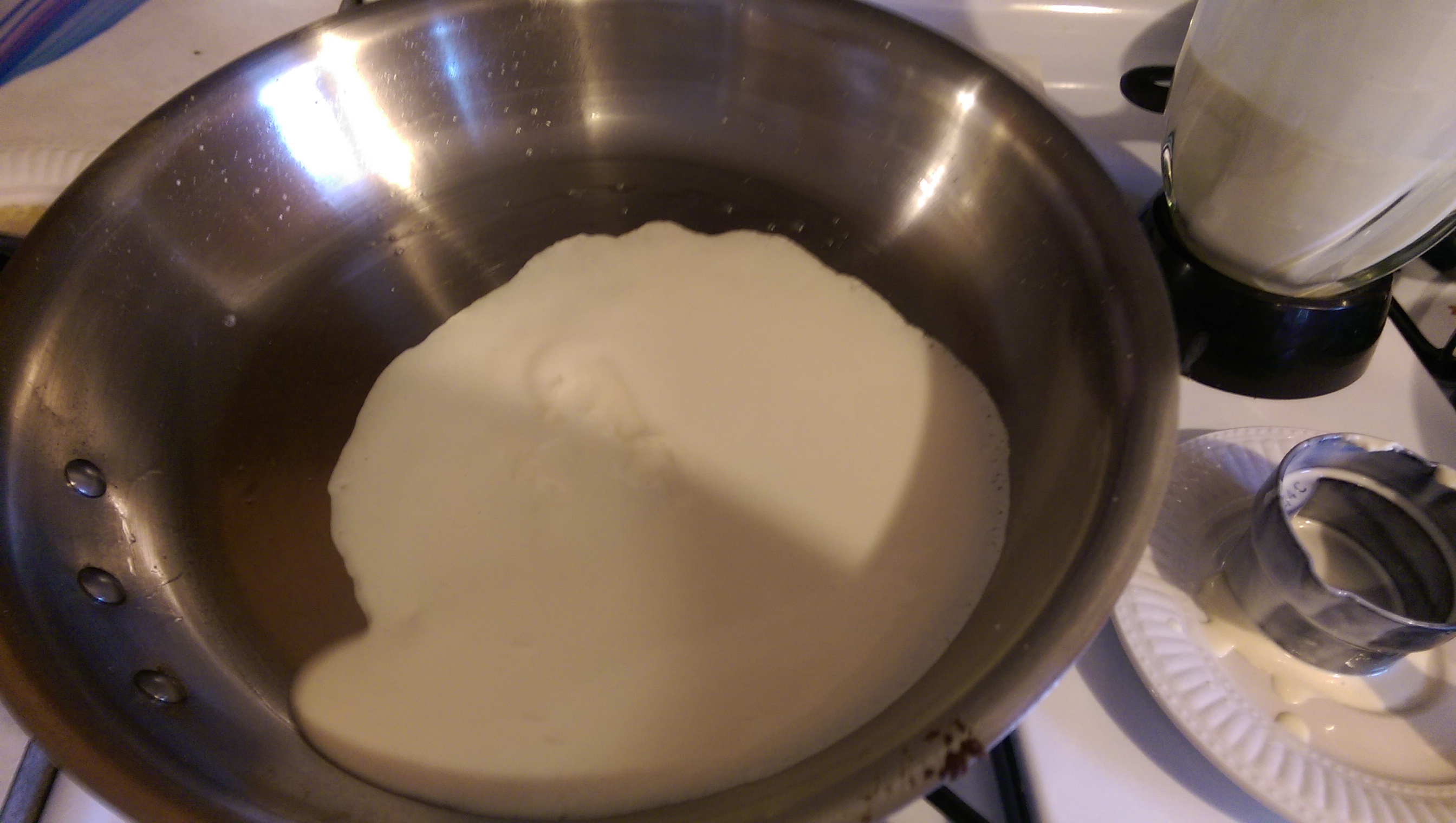 ….and pour out the excess.
You cook the first side for approximately a minute or so…
…and then flip it over to cook for about another 30 seconds.
The second side will only be a little bit spotted Brown.
You take the crepe and set it aside, covering it up or setting it to where it will stay a bit warm. Oil your pan again and repeat the process until you have used up all of your batter.
The crepes can be used immediately, and they also will refrigerate well, to be warmed up for use later.
In the mean time, my coffee got finished up before the batter was all used. Sad, lonely, empty cup of coffee…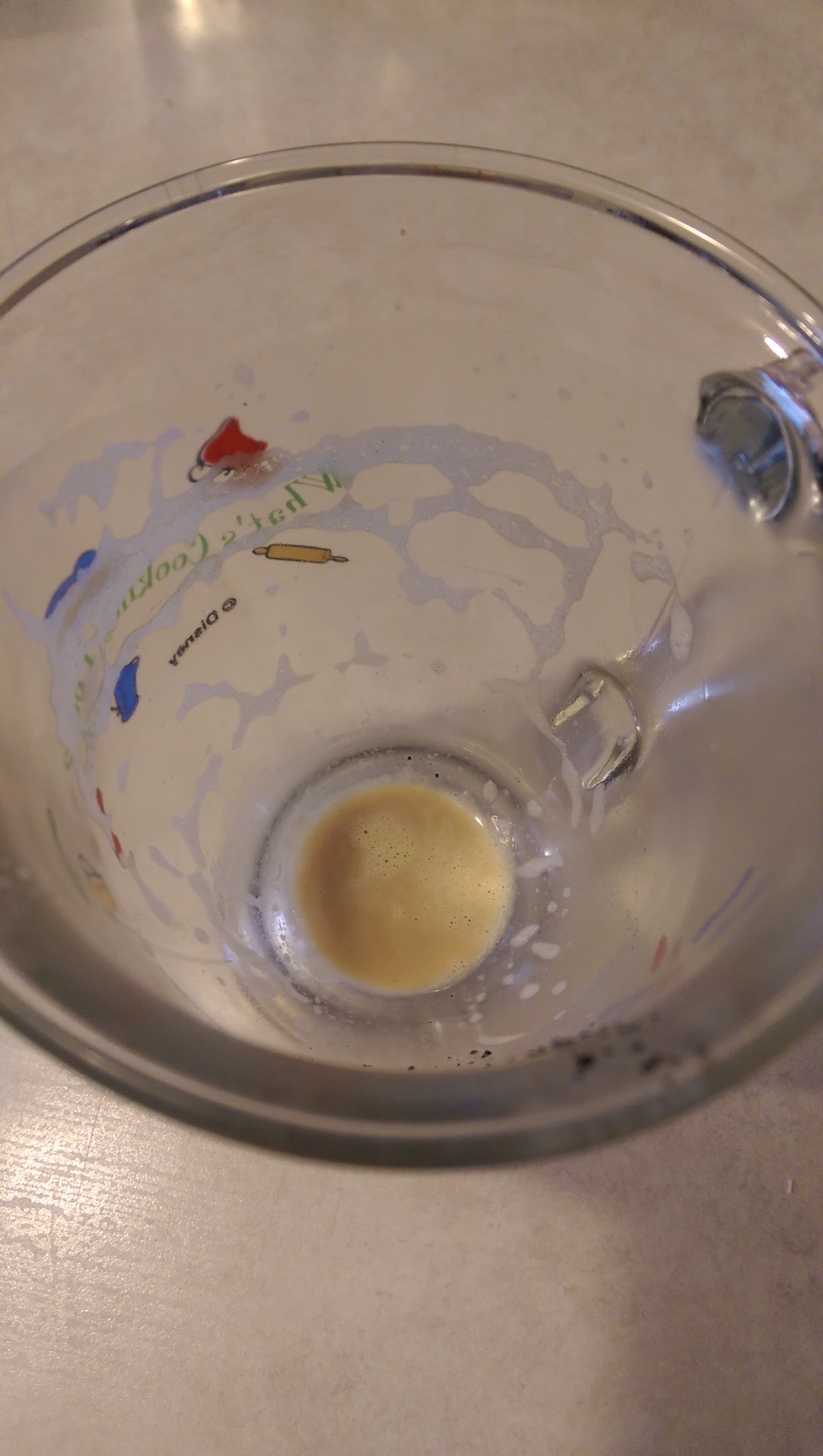 I sliced some strawberries to go with the crepes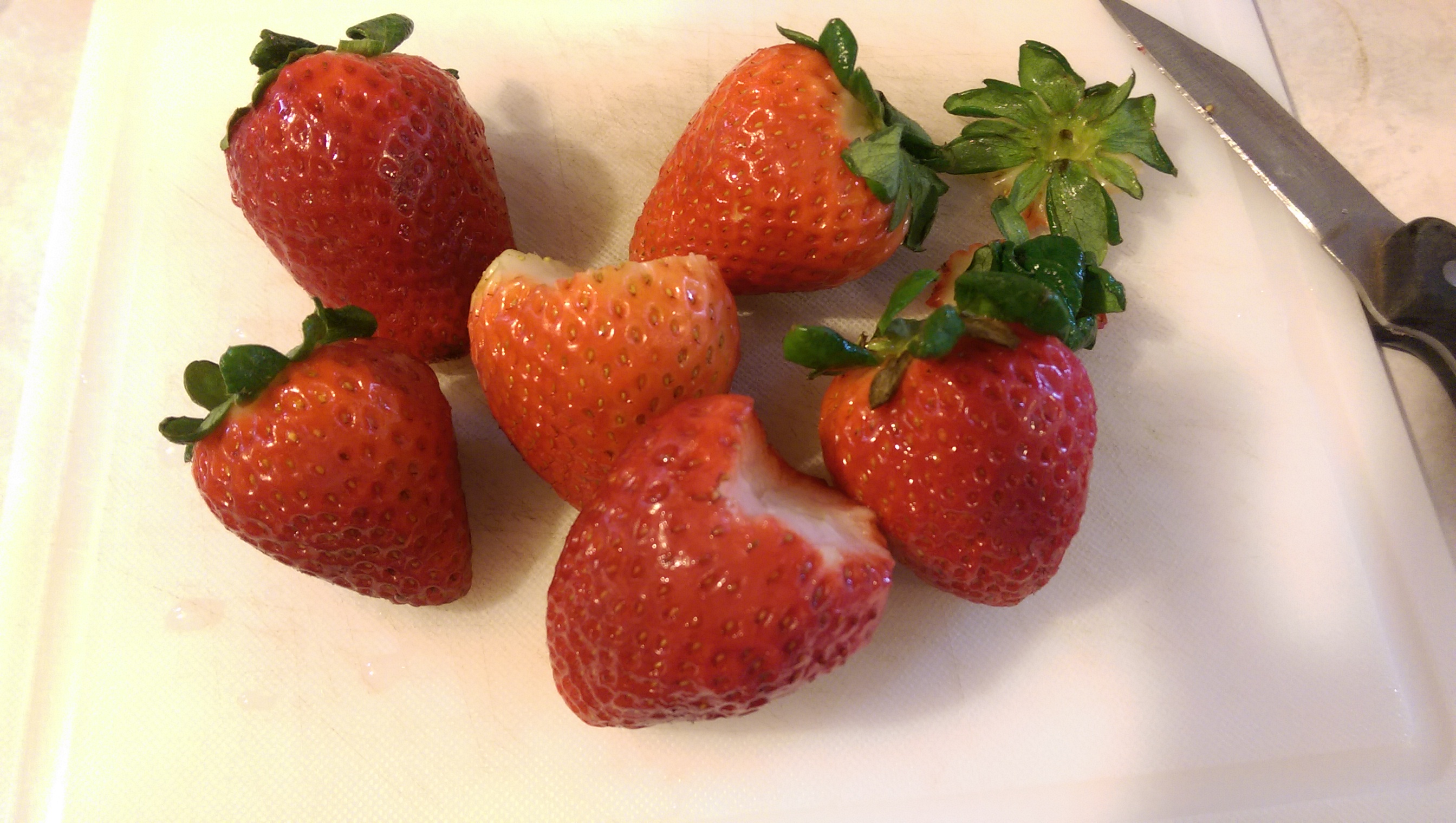 To make the whipped cream, I just put cold heavy cream into my mixer with a bit of powdered sugar and a little bit of vanilla.
I turned the mixer on high and kept an eye on it until it got to medium Peaks.
You can go to stiff peaks, but you have to watch it very carefully to make sure it does not get over beaten.
I then put the whipped cream in the middle of a crepe…
and then roll it up. I did that with 5 Crepes and put them all on a plate, added sliced strawberries, sprinkled powdered sugar on top, added a dollop of whipped cream, and for the Final Touch added a strawberry that had been sliced and fanned out.
After seeing the finished product, Lydia wanted something very similar done with a pancake that I had reheated for her.
My attempt at being creative. ?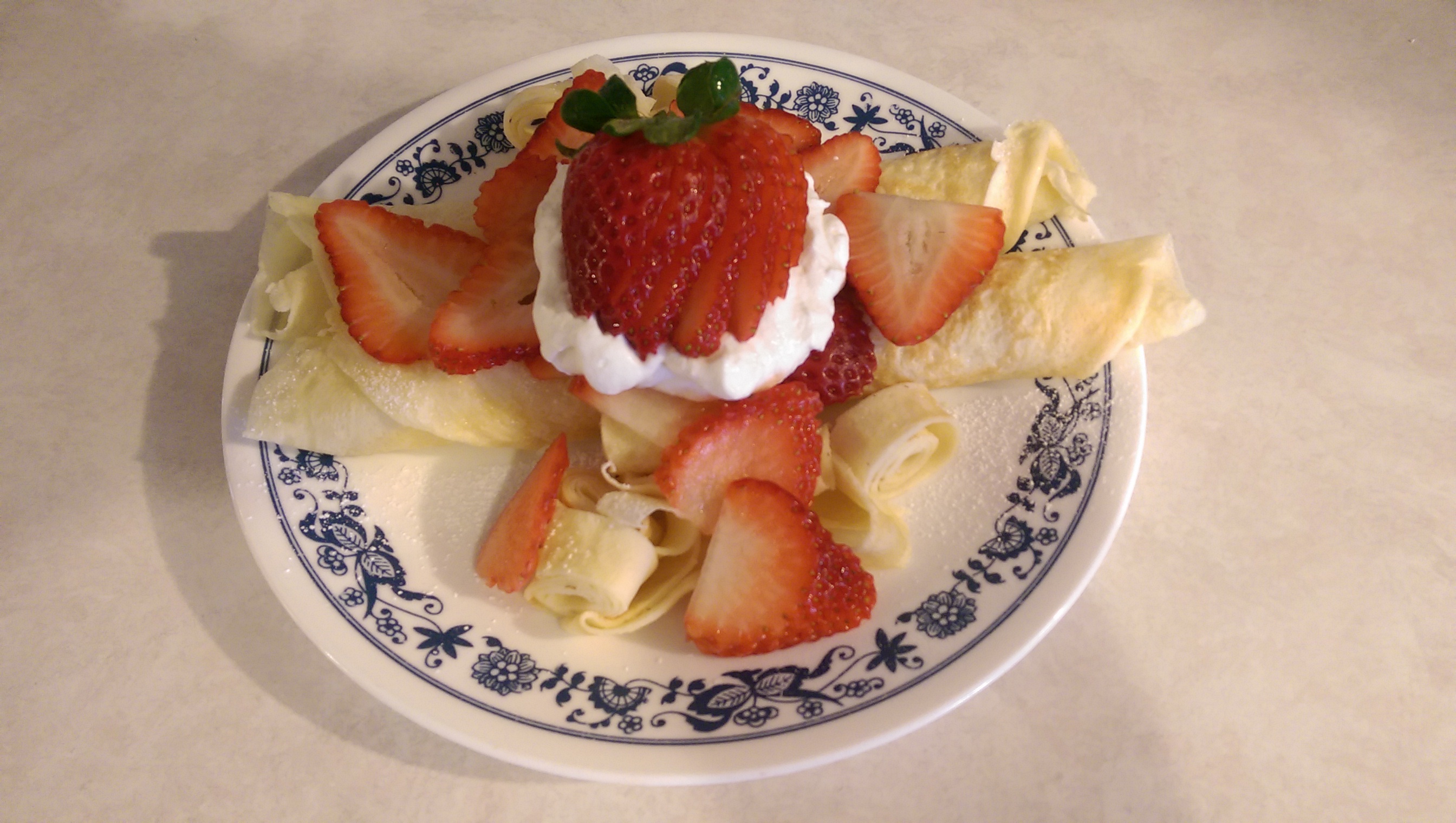 One Step that I did not follow *surprise, surprise* with the directions was that I did not let the batter sit for 2 hours. I used it right away and it still seem to do fine.
Oh wait, I did not sift the flour before using it which potentially might have made the Crepes a little bit thicker, but that was fine because Jordan enjoyed it that the Crepes were a little bit thicker.
So two steps that I didn't follow. That won't surprise my mom. ?
Or Jordan, for that matter.
Apparently I have a reputation for not following directions. ?
I have used this recipe before and it is definitely a recipe that I will be using a bit more frequently. It was not as difficult as I thought it would be. If you have never tried making crepes, set aside a morning and make a batch of them. You might be just as pleasantly surprised as I was as to how easy they were.
Enjoy!
-Martha